Safe Return to In-Person Instruction and Continuity of Services Plan (SRCSP)
UPDATED 7/25/2023
UPDATED 2/28/2022
UPDATED 1/21/2022
UPDATED 1/13/2022
After reviewing the staff and student attendance district wide, the Cassville R-IV School District has determined that Cassville Middle School and High School students will transition to a Virtual Learning Day, also known as an AMI (Alternative Methods of Instruction) day tomorrow, Friday, January 14. Students in grades 6th-12th will

not

attend in-person class on Friday and should be checking their district email for assignments and information from their teachers.
High School Scott-Tech students will attend and ride the bus at their regularly scheduled pick-up and drop-off times.
Primary and Intermediate students, PK-5th grade, will be in session,

seated

on Friday, January 14th.
School is not in session on Monday, January 17, in observance of Martin Luther King, Jr. Day.

All students will return to seated, in-person class on Tuesday, January 18.
Thank you for continuing to make learning a priority for your children during this time.
If you have any questions or concerns, please contact your child's building level office.
UPDATED 12/17/2021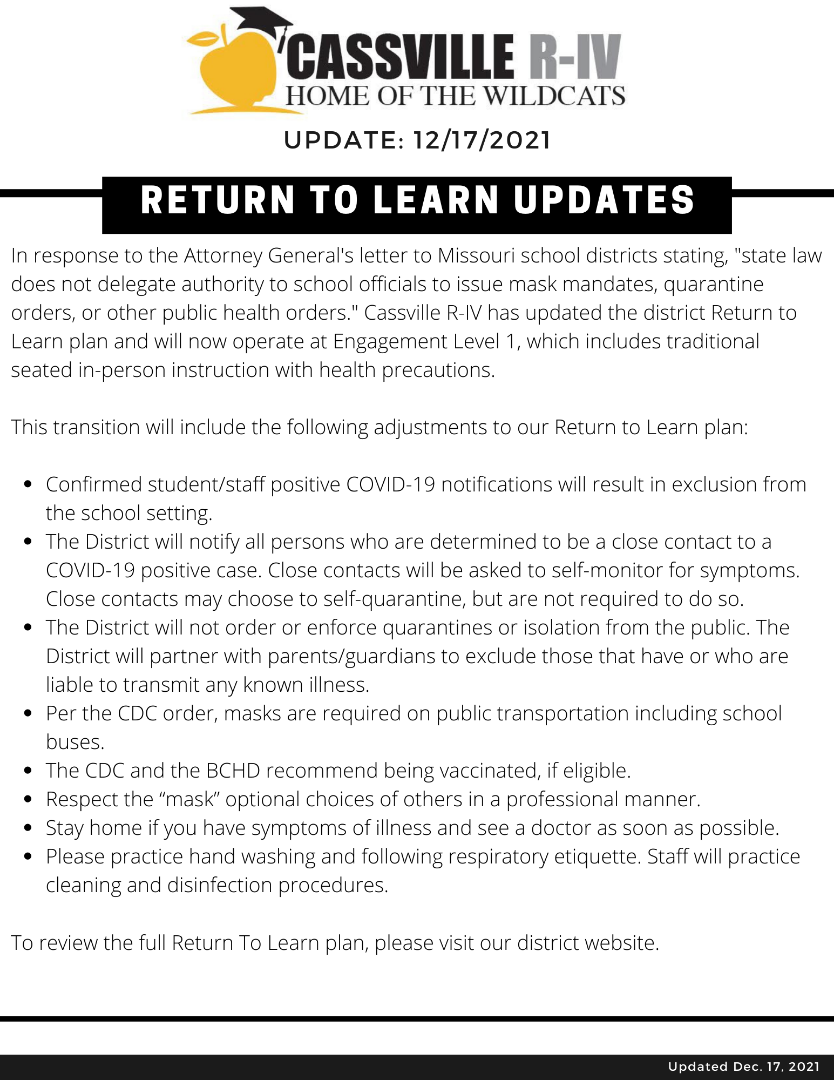 UPDATED 12/10/2021
UPDATED 12/8/2021
Yesterday, all school districts in Missouri received a letter from the Attorney General. The district has consulted with legal counsel regarding the Board of Education's authority to adopt rules and regulations related to communicable diseases (MO State Statute 167.191).
Our goal is to keep students and staff members safe and healthy, and to keep as many students learning, in-seat, as possible. Our Board of Education has approved our COVID-19 mitigation protocol via our District Return to Learn Plan (MO State Statute 171.011), and reviews the plan frequently to ensure our efforts are effective at keeping staff members and students safe in accordance with our policies.
Effective immediately, based on current rulings in the state of Missouri, the Cassville R-IV School District is not ordering or enforcing students to quarantine or isolate from the public. As we did prior to the pandemic, we will partner with parents/guardians to exclude students from the school setting who have or who are liable to transmit any known illness.
If you have questions regarding this current change, please contact your child's building level principal.
UPDATED 12/3/2021
UPDATED 11/23/2021
Due to a limited supply of testing kits, we will now only offer an early test-out option on day 7 of quarantine.
UPDATED 11/12/2021
Effective Friday, November 12, the test-to-stay option will not be available due to a state-wide shortage of testing supplies. Families that have made arrangements utilizing the test-to-stay option prior to November 12 will be permitted to complete their quarantine using test-to-stay. However, after November 12, this option will no longer be available until the district is able to receive more testing supplies.
UPDATED 10/21/2021
UPDATED 8/12/21
The Board of Education has approved the Return to Learn plan for the 2021-22 school year.
Click here to view the full plan.
The image below displays some of the information found in the plan.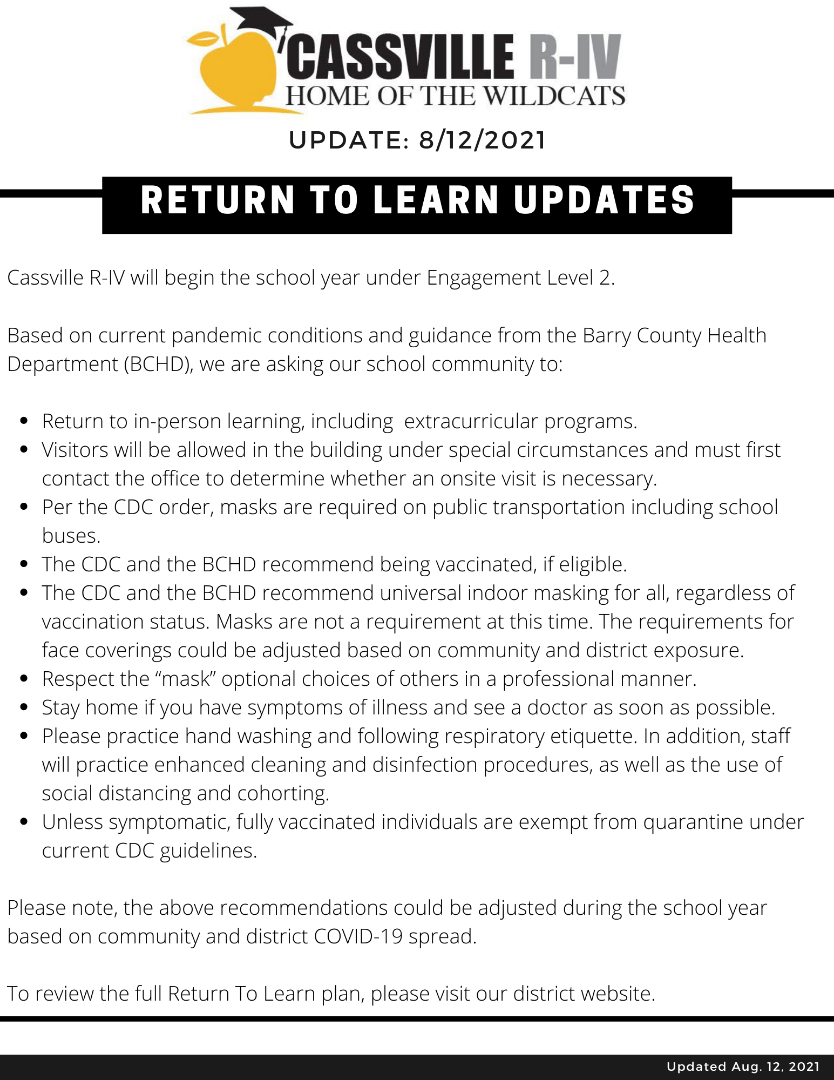 UPDATED 8/5/2021
As we quickly approach the first day of school, our Board of Education will meet for a special board meeting on Thursday, August 12 at 7:30 a.m. to discuss our Return-to-Learn plans for the 21-22 school year.
We understand that our community is eager to know what the start of school will look like and we will continue to work in partnership with the Barry County Health Department as we strive to follow the best protocols and guidance for the health and safety of our Wildcat family and community members.
Our Board and Administrative team is working daily to evaluate information and new guidance as it becomes available.
We do know one thing for sure, we are excited to kick-off a fantastic year of learning and fun for our students on Tuesday, August 24!
UPDATED 7/20/2021
We invite you to participate in this ThoughtExchange survey to give everyone a chance to share their perspectives and understand what's most important to you and your family regarding the following question:
What are some strategies the Cassville R-IV School District should consider to promote learning acceleration due to interruptions associated with COVID-19?
Click this link to participate: https://my.thoughtexchange.com/#172351959
Please come back often to rate new ideas. This ThoughtExchange will close on Monday, August 2nd.
Your input is valued and appreciated. Thank you for participating!
UPDATED 7/1/2021
ADDENDUM
Message from Dr. Johnson on July 1, 2021
COVID-19 Update
The June 9, 2021 guidance updates from the CDC. Vaccination is currently the leading public health prevention strategy to end the COVID-19 pandemic. Promoting vaccination for eligible students and staff members can help schools safely return to in-person learning, as well as extracurricular activities and sports.
This new guidance will hopefully encourage more individuals 12 years and older to consider being vaccinated.
Please note the following Cassville R-IV School District updates:
The District will continue to be in Traditional School mode. Cassville Schools made this conversion the last week of school and maintained this practice throughout summer school.

Student masking will return to parent choice.

All staff will be encouraged to wear a mask, but not required.

All staff will be encouraged to practice physical distancing.

As a district, we will be respectful of all student and staff masking choices.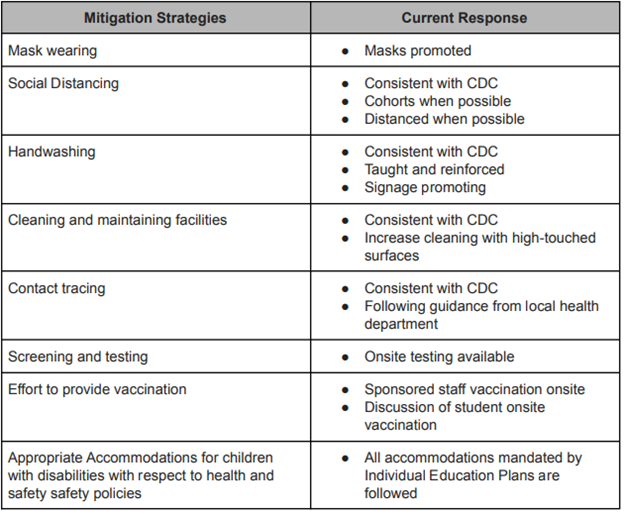 Return to Learn and ReEntry Plan: This guide is intended to provide an overview of focus areas. As wellness and Health Department Guidelines are updated, this plan may be amended.
This plan was created with the public input of district staff, community members, students and Board of Education members with guidance provided by the Barry County Health Department as well as DHSS and DESE.
Click here to view the ReEntry Plan.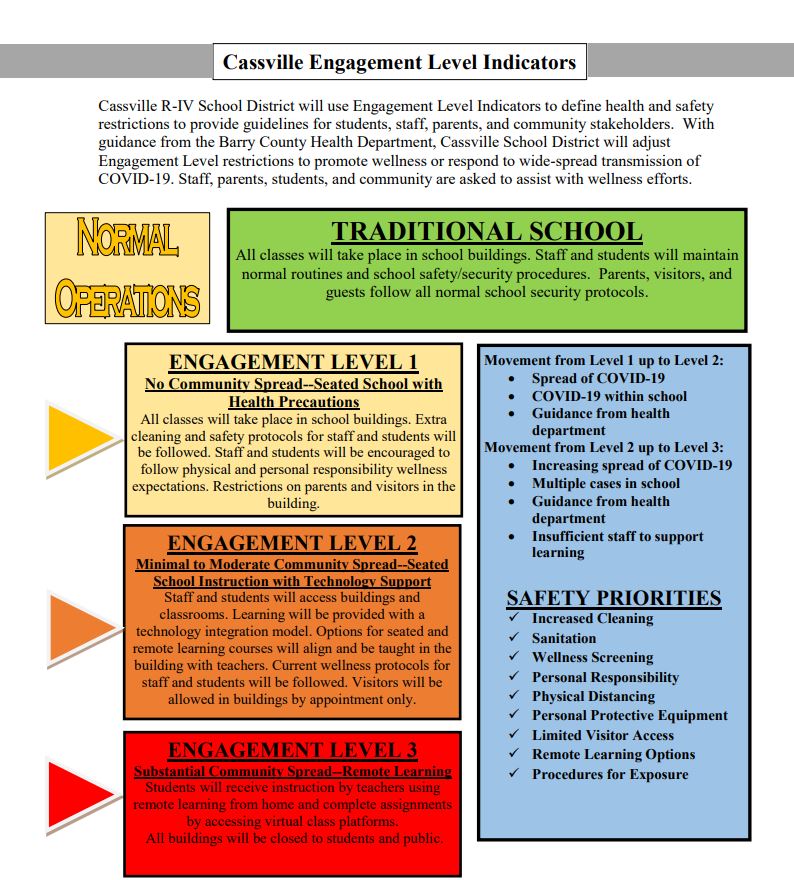 UPDATED 6/30/2021
Click here to view the 2020-21 school year Return-to-Learn COVID updates.